Antique lighting in London continues in its resurgence as a popular choice for the discerning homeowner and business owner, keen to make a design statement. As interior designers look to create vintage concepts and design schemes, antique lighting in London looks set to stay on trend.
As antique lighting restoration experts in London, The Lamp Factory London create and restore beautiful antique lights and handmade lamps in all different shapes, sizes and materials.
The Lamp Factory London produces bespoke antique lighting concepts that add drama and style to London homes, businesses, and social venues. From the company's five dedicated workshops in our Croydon factory and surrounding areas, highly skilled artisans deliver bespoke designs, applying expert problem-solving skills whenever required.
Many homes, commercial sites and hospitality venues throughout London have benefited from the expertise of The Lamp Factory's artistry in the creation of antique lighting pieces.
Antique lighting restorations
Antique lighting restorations provide the skilled teams at The Lamp Factory with the opportunity to demonstrate their talent in taking neglected antique lighting pieces and transforming them into stunning, eye-catching displays.
Sensitivity and intricate skill are required to deliver antique lighting restorations. The work must be done by hand with every detail meticulously restored.
Antique lighting restorations can be commissioned for one-off pieces or on a contract basis. We work with the client to learn about the space in which the antique lighting restorations will be displayed, determine their requirements in terms of the finished look, and agree to timescales.
By restoring existing antique lighting, quality of the end product is assured due to the materials used in the original product and the expertise of the restorer.
Antique lighting designs have been a leading trend in interior design for some time. The recently popular industrial look can, of course, include some antique lighting designs but there has been a shift away from industrial schemes to more luxurious interiors. This is reflected in homes, commercial spaces and hospitality venues all keen to create an ornate, yet traditional feel.
Brass is very much a favoured finish for antique lighting designs, along with copper, bronze, marble and glass. Whether it's table lamps, pendants, floor lamps or wall lamps, these finishes accentuate the traditional appeal of antique lighting designs.
Antique chandeliers are seen predominantly in bedrooms, reception rooms and hospitality venues. Regardless of size, a chandelier has immediate impact in any room. Crystal chandeliers, antique brass, art deco and glass drop chandeliers are antique lighting designs that bring a stately elegance to buildings. There can be a mix of antique chandelier styles across the rooms of larger homes and venues to encapsulate history and symbolise different eras.
Our antique lighting can be found across London
We have crafted antique lighting for many prestigious locations, including 180 The Strand (a members' club for Soho House), Eynsham Hall, and a private members' club on Grafton Street, London.
Restored lamps and the sustainability benefits
Production and recycling are the routes through which lighting can be sustainable. Restoring lamps is repurposing products that don't require mass manufacturing. They are upcycled by hand so use minimal energy resources in production.
Restoring an existing lamp produces little waste and the restored lamp will be compatible with LED bulbs. Because the restoration is done by hand, bespoke sustainable packaging can be used to protect the finished item.
Choosing the best antique wall light can be difficult. The look you want is best determined by your décor style. Antique wall lights are more than just old Victorian gas lights or regency-style replicas.
Wall lights can be used to increase general lighting in a room as well as for ambient, accent, or task lighting. After deciding on the purpose of the light and selecting a design, the question of finishes and/or colours arises.
The popular Napier lamp series is now available as a wall lamp from The Lamp Factory London. With its sleek lines and subtle styling, this wall lamp stands out from the crowd, combining a sense of modern design with traditional elements. Antique brass finish with a solid brass shade adds warmth to a room and is ideal for any elegant interior.
The Grosvenor is a grand, elegant double arm wall light with long, meticulously crafted stems finished in antique brass. A traditional lighting classic.
Following demands for bespoke alternatives, our portfolio of wall lamps and reading lamps has grown over time. Today, we provide the best quality wall lights in a variety of styles and finishes, whether brass or copper, single or double lamps, we have a professional team on hand to assist you in finding the ideal lamp.
Can we help with your antique lighting?
If you work with antique lighting or would like to restore an antique piece, please click here to contact us and we will be happy to discuss your requirements.
Contact us about restoring your antique lighting
Elegance and opulence – antique lighting history
One person's idea of what constitutes antique lighting can differ from another's. There are several different types of antique lighting that we work with.
The Lamp Factory London use antique lighting restoration techniques to hand-restore unique lighting features from some of history's most beautiful lighting design.
Here are types of antique lighting we work with:
The Tiffany glass lamp was created by Louis Comfort Tiffany in the late 1900s. He transferred his skills in the design of stained glass windows to the creation of highly decorative, colourful handmade lamps. Tiffany lamps are still very popular today, so the talented and highly skilled artisans at The Lamp Factory London are often asked to restore handmade tiffany lamps to their former glory.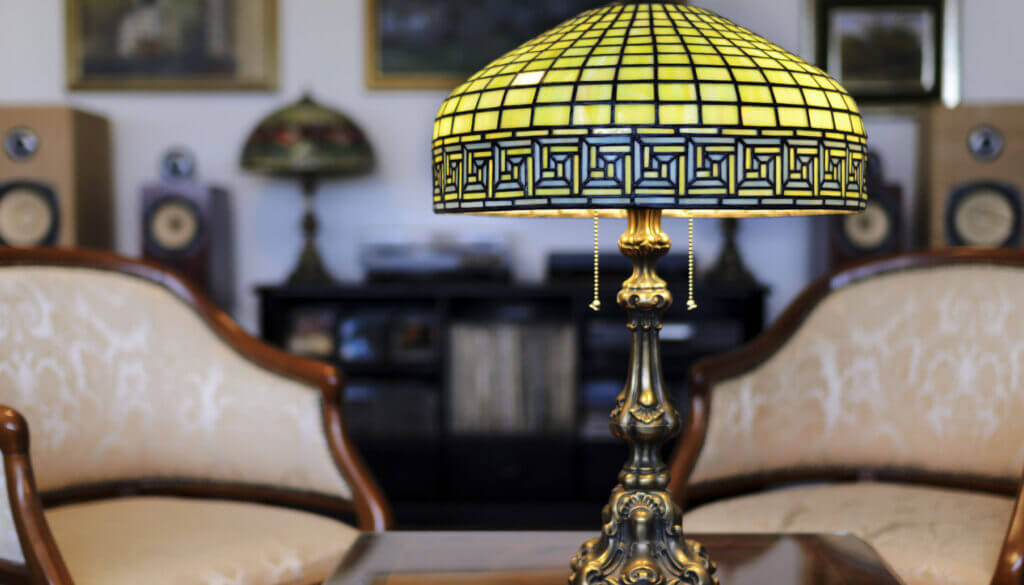 Also still popular in antique lighting restoration is Art Deco lighting. Dating from the 1920s and 1930s these pieces are elegant and dramatic, with a futuristic quality. Art Deco interior lights were traditionally made from steel, chrome or polished bronze to create the glossy, lustrous chic we associate with Art Deco. 
Antique chandeliers
Ornate and intricate, the chandelier has been popular since the 18th Century. Chandeliers have certainly come a long way from their cross-timber origins. As antique lighting restoration experts,The Lamp Factory London always have a wealth of styles to work on! Designs that include features such as cascading glass, brass and crystals are still hugely popular. The Lamp Factory London use antique lighting restoration techniques to restore bespoke lighting features by hand, from some of the most stunning chandeliers from across the centuries.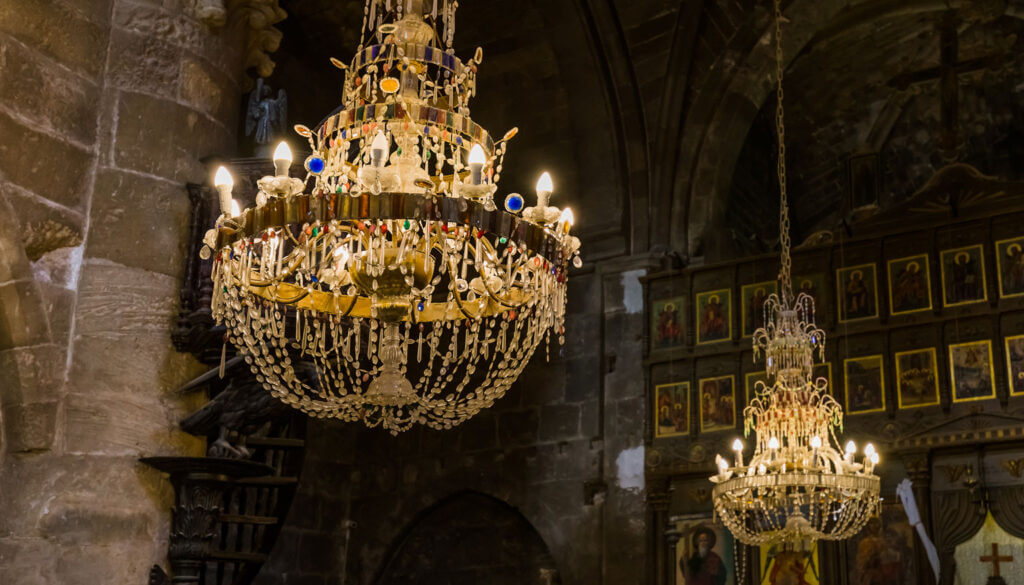 Handmade lamps can be made from a range of materials: wood, brass, copper, marble, glass and other special finishes. The renaissance of traditional, ornate lighting means that The Lamp Factory London is often commissioned to restore period lighting pieces by hand. Care and attention to detail are paramount to ensure that the finished restored product is authentic to its origins.