Of course, lighting has the potential to consume a significant amount of energy. However, Document L of the UK Building Regulations aims to reduce energy consumption and bring about standardisation for lighting projects to comply with.
But how do you ensure your architectural lighting designs conform to approved document L while pushing the boundaries in design and aesthetic appeal?
"Building regulation in England setting standards for the energy performance of new and existing buildings."
According to the UK Government's website.
Approved document L lays forth precise methods for fuel and powers conservation, with the goal of making our buildings as energy-efficient as possible.
Plan L took effect on April 6, 2016, replacing prior additions, however from June 15th this year, there will be revisions to the approved document, which means that anything built after that date must comply with approved document L, volumes 1 and 2.
In terms of architectural lighting design, it means that efficient electric lighting is required in most buildings, and you must comply with this when your existing lighting system is replaced, rewired, or a building is extended.
 Lumens are used to measure the amount of light that a light bulb produces. The brighter the light, the larger the number of lumens.
LED technology typically delivers 70-100 lumens per watt, which means LEDs are 5-6 times more efficient than incandescent bulbs at producing light. LED bulbs also comply with Part L's CO2 emissions rate, making them an excellent alternative for your opulent setting.
Halogen bulbs have been widely used and functioned similarly to old-fashioned incandescent light bulbs, producing light via a filament enclosed in halogen gas.
But with the government's proposal to reduce carbon emissions in all sectors of the UK economy by 2050, Halogen bulbs are simply not an option for this. The switch to LED bulbs is expected to save 1.26 million tonnes of CO2, which is the equivalent of removing more than half a million cars off the road.
LED light bulbs also use 80 per cent less power than halogen and fluorescent bulbs, making them much less expensive to operate and last many more years making them the sustainable choice.
Recent trends are seeing LED luminaires being adapted to create bold and stylish statement pieces such as large contemporary chandeliers, elegant floor lamps and pendant luminaires.
 With sustainability being a key driver, LED luminaires, are used widely as standard lighting in offices and the retail, healthcare, leisure, education, and hospitality sectors. Here at The Lamp Factory, our goal is to become as energy efficient as possible and that's why we design the majority of our lamps to include LED bulbs.
OLED is another type of LED that we will see a lot more of. OLEDs are carbon-based organic light-emitting LEDs. OLEDs are diffuse-area light sources manufactured in sheets, as opposed to LEDs, which are small-point light sources.
OLEDs produce bright, high-contrast light that is ideal for architectural lighting applications such as mood, task, and ambient lighting.
The development of white OLED devices for use in solid-state lighting applications has recently come into development which would work wonders for efficiency in lighting design.
Materials for a more sustainable future
As a result, investing in materials that are sturdy and long-lasting, such as brass lighting and fixtures, will result in less maintenance and less waste. It's critical to choose materials and products that have the least environmental impact from a sustainability standpoint. Brass can be recycled multiple times without losing its composition, making it a very sustainable metal.
We love brass and use it a lot here at The Lamp Factory! But this is because we recognise how beautiful and timeless it is. It is ideal for applications requiring smooth, frequent movement, such as architectural lighting, due to its low friction. Many of The Lamp Factory's lamps begin as a solid block of brass that is then handcrafted to form the light's foundation.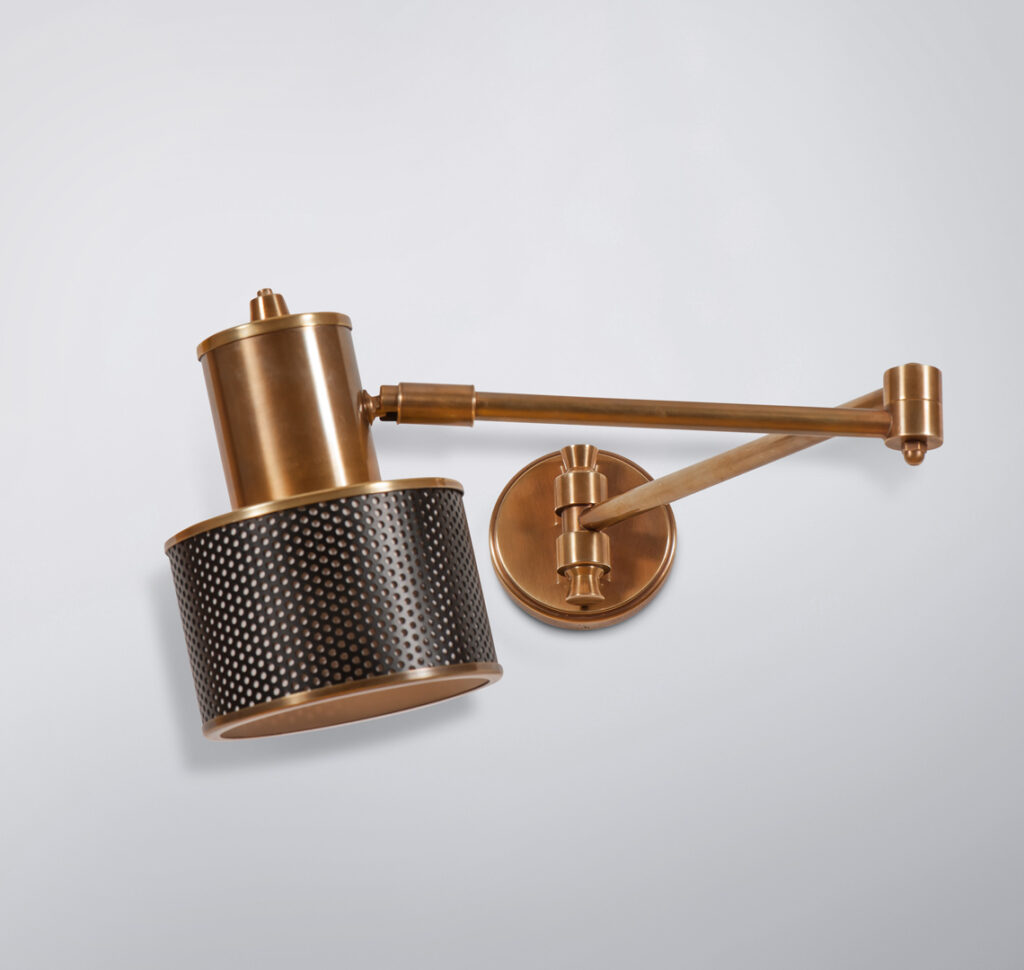 Benefits of refurbished lamps
We are becoming more aware of the importance of our carbon footprint, and there is growing interest in sustainable trends such as upcycling, and restoration. Every year, thousands of tonnes of old furniture pieces wind up in landfills, which is why restoration is so beneficial to the environment. Vintage and antique design was huge in 2021 and it has significant sustainable values when it comes to shopping vintage.
The Lamp Factory in London specialises in bespoke designs and lamp conversions, and we are accustomed to the high standards of quality that this entails. As antique lighting restoration experts in London, we create and restore stunning antique lights and handmade lamps in a variety of shapes, sizes, and materials.
Here for your next architectural lighting project
"Every day throws up a new challenge due to the requests we get for bespoke designs and solutions, but I can honestly say I love it, coming up with a solution the customer is pleased with gives me great satisfaction."
 Russell Sidney, Managing Director
The Lamp Factory London collaborates with each client to provide design ideas, technical information, and product advice. Our primary goal is to develop client relationships. With five dedicated workshops and 18 highly skilled craftsmen, we create high-quality bespoke lighting and statement lamps.
 Get in touch
 If you would like any more information on our range of lamps, on our bespoke designs, restorations or conversions, or just general advice on your architectural lighting design please telephone us on 0208 683 0721 or email us