Lighting has an incredible influence on any interior space. Whether you are a homeowner and looking for a new table lamp for your living room, or you are an Interior Design looking for lighting inspiration for a commercial development, lighting is key for setting the right tone.
If we look more specifically at table lamps, these are increasingly featuring in homes, commercial developments and leisure establishments. Furniture selection is key for table lamps.
With the rising trend of working from home rather than at the office, it has resulted in many more homes featuring home offices. We have seen a notable increase in the demand for our bespoke table lamps which are showcased in such home offices.
Bespoke Table Lamps
Homeowners are willing to invest in the right lighting as it influences productivity and mood significantly. Due to this demand, we have introduced beautiful new table lamps in our new May Design mini-collection.
The use of brass continues to influence our designs, but our new mini collection features a few more eclectic materials. The Alabaster Table Lamp is crafted exclusively from alabaster stone. The semi-translucent rock creates stunning lighting effect producing a warm glow, and looks fantastic in any home office.
Russell Sidney, Director of The Lamp Factory London, comments,
"We wanted to really push the boundaries in the designs for our new mini collection. I'm really pleased with how they've turned out, and they have been well received so far at our showroom at Chelsea Harbour.
The Verge Table Lamp was an obvious choice to produce, following on from the popularity of the floor lamp model. We have exhibited at SLEEP and Decorex for the last few years, and The Verge Floor Lamp has always attracted a lot of attention!"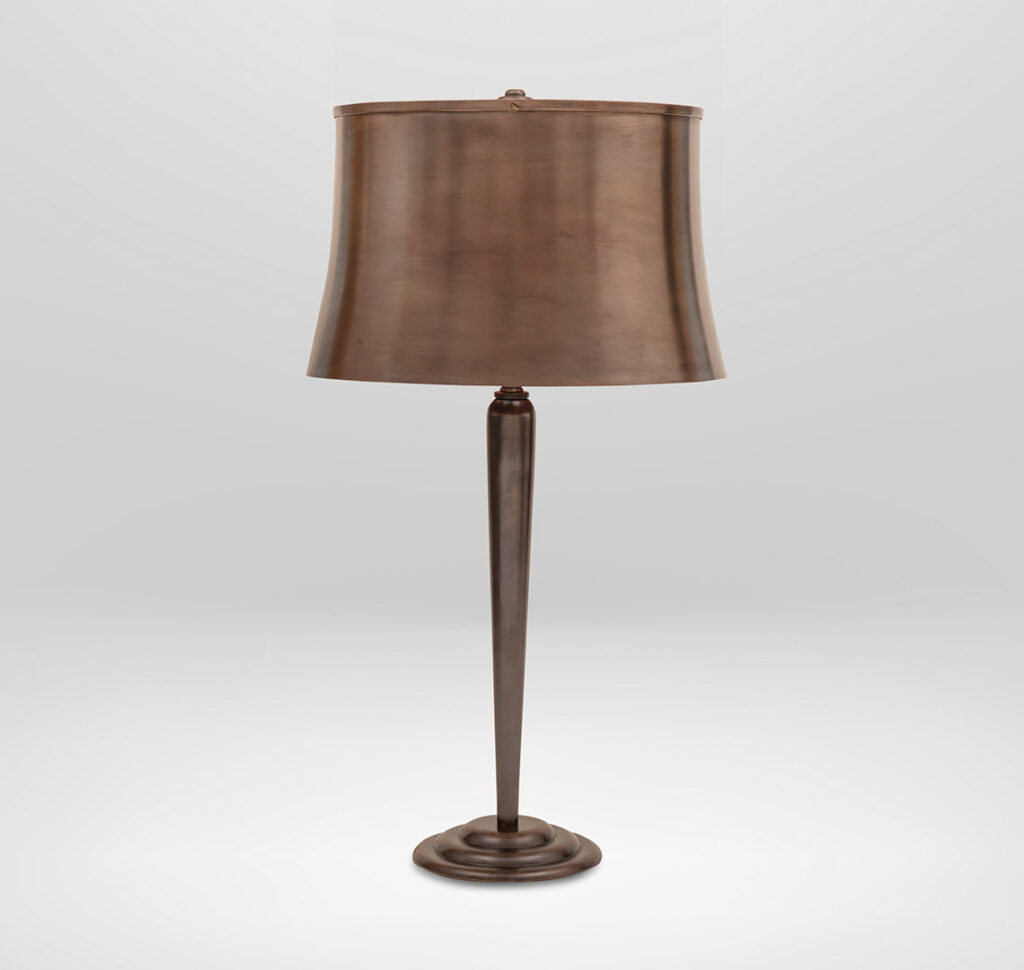 Statement Lamps
The popularity of statement lamps also extends throughout the home. According to Décor Mag, dining rooms are increasingly embracing statement lighting – wall lamps, table lamps and floor lighting. Not only is it crucial for enhancing the mood and setting the right tone for those evening meals, but incorporating beautiful lighting is an excellent conversation starter!
Table Lamps For Commercial And Hospitality Interiors
The rise of boutique hotels and artisan furniture has increased the use of bedside tables within a commercial setting. The Lamp Factory London are increasingly working with Interior Designers and Hotel Specifiers in designing bespoke table lamps for their interior projects.
The Chelsea Table Lamp is a sturdy, solid brass design that has been specified into various hotels across London. Popular classics such as The Jasper Bar Lamp and The Elegance Table Lamp feature in hotels in Paris, Milan, New York and Stockholm.
Our handcrafted, beautiful lamps add character and style to high-end hospitality interiors.
If you are currently working on a high-end hospitality, residential or commercial project and would like to discuss our range of bespoke table lamps, please telephone us on 0208 683 0721 or email us.  Don't forget to follow our social media channels for the very latest product developments, industry news and design inspirations.