Bespoke picture lights provide an elegant touch to any interior, and have been a popular option for many decades, often used to highlight fine art pieces or simply to provide ambient lighting for home libraries or reading rooms.
Picture Lights remain current and on-trend, both in terms of their styling and functional uses. As trends shift from industrial, gold fixtures, rattan or minimal bare bulbs, high quality crafted Picture Lights remain in constant demand.
The Lamp Factory London's range of luxury picture lights are of classic, contemporary and slimline designs, perfect for distinguished interiors. All of their lamps are hand-made in our South London workshop, where skilled craftsman carefully craft each Picture Light from solid brass.
Luxury Picture Lights
There are currently three Picture Light models in The Lamp Factory London's range – The Traditional Picture Light, The Avaline and The Bancroft.
All three were extremely popular on our stand at this year's Decorex Event. Visitors to the stand were drawn towards the Picture Lights, admiring their beauty and functionality they bring to discerning interiors. They produce a soft, warm glow which helps to light up fine art pieces or provide subtle yet effective lighting for home reading rooms or libraries.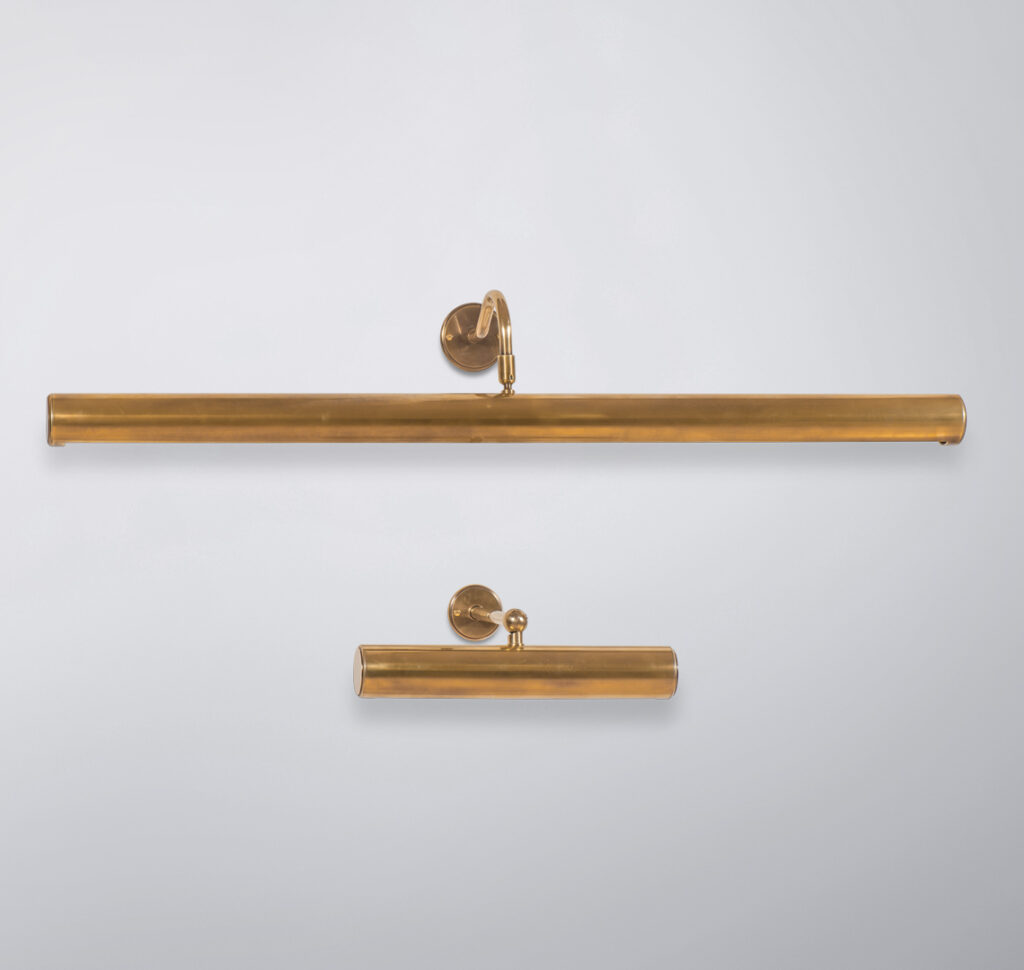 The Lamp Factory London work closely with interior designers and hotel specifiers to produce bespoke Picture Lights to match each hotel's character and styling. They feature in many luxury, boutique hotels and other hospitality interiors throughout UK, Europe and the rest of the World.
Brass Inspired Picture Lights
All of The Lamp Factory London's Picture Lights, as well as the rest of the lamps, are crafted from solid brass or copper, and feature exquisite finishes such as antique brass, old English antique, brushed copper, polished nickel and more.
As each Picture Light is made from solid brass, clients appreciate the intricacy, quality, design and robustness of each lamp. Clients are often surprised with the heavy weight of the lamps, but this re-assures them of the quality and craftsmanship of each hand-made lamp.
Solid brass statement lamps continue to feature in discerning interiors throughout the world. Luxury hotels in London, Paris, Milan, Barcelona, New York, Stockholm all feature our Picture Lights.
Russell Sidney, Managing Director, comments, "It is really pleasing to see our Picture Lights feature in so many luxury interiors all over the World. We work closely with interior designers, hotel specifiers, architects and other professionals who appreciate our problem-solving abilities, attention-to-detail, and overall level of service.
Our lamps are often referred by interior professionals to their clients, which has really helped the popularity of our bespoke statement lamps. We really listen to the requirements of the client to understand their vision and styling, and create a showpiece lamp that exceeds their expectations."
The Lamp Factory London now provide technical tearsheets for all our lamps, to assist with design specifications. If you require a copy for a particular lamp, please let us know.
The Lamp Factory London proudly creates bespoke, beautiful lamps for distinguished interiors all over the world. They feature in boutique, luxury hotels in London, Paris, New York, Milan and Barcelona; high-end residential properties; luxurious commercial developments including city centre retail premises and law firms; and even celebrities' homes.
New Statement Collection
The Lamp Factory London are pleased to be introducing our new Statement Collection at Decorex 2017, and later in the year at SLEEP Event 2017. Featuring bold new designs and intricately crafted lamps, our Statement Collection is designed to inspire distinguished interiors in residential, commercial and hospitality settings.
You can find us at stand J31 at Decorex, and you are very welcome to come and view our collection of decorative, bespoke lamps. Our lighting experts will be on-hand to inspire you, take you through our beautiful new range, and work with you should you have any ideas for your interior project.
To register for a ticket to the event, click here
If you are currently working on a high-end hospitality, residential or commercial project and would like to discuss our range of highly bespoke lamps, please telephone us on 0208 683 0721 or email us. Don't forget to follow our social media channels for the very latest product developments, industry news and design inspirations.