People are opting to open their downstairs space to create a more sociable atmosphere, while new city builds are favouring a kitchen/living room layout. Open-plan spaces are becoming increasingly popular.
However, if not properly lit, an open plan can have the opposite effect of what you intended, creating a vast and impersonal space. So, what is the best solution to this problem?
Lighting of course.
Creating distinct lighting zones in open-plan interiors can be critical to achieving the desired environment.
What is the best way to light an open floor plan?
Create zones
Although open plan living encourages interaction, it is not the only thing you want or need in an open plan space and each area within your home should have its own lighting requirement.
Layer the light to create designated zones for resting, dining, and working is key to keeping the space organised. Task lighting is excellent for creating a more private space for relaxation and reading. Floor lamps are quite versatile, as they can easily fit in any corner of the room. Their design, as well as the quality of light they provide, make them ideal for the living room, and purchasing a bespoke floor lamp can give your home a one-of-a-kind appeal.
You may also need to use task lighting in the kitchen, but this type of lighting is more practical in its approach as you will be using more strong concentrated lighting to prepare food and cook. Dimmable lighting is also a good idea for the kitchen area as you may not want bright lighting when not cooking.
Because many people now work from home, it is critical to divide and separate work areas from relaxation areas to maintain a healthy balance for our well-being as well as the function and enjoyment of our workspace. A custom table lamp with an adjustable neck is ideal for concentrating on your work while maintaining the style and finesse of your interior.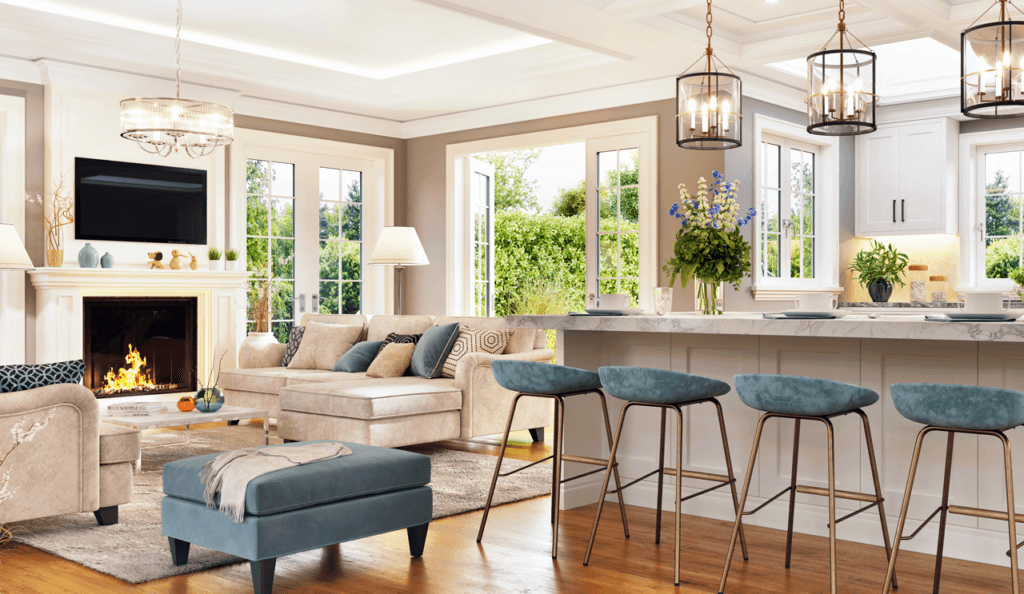 Lighting for your own entertainment
Your living/kitchen space isn't just about relaxing and making food, it can also be a place to entertain.
Wall and pendant lights are excellent for layering light. Accent lighting, such as wall lights, is intended to draw attention to a specific object or area. Placing wall lights above your seating area can transform it into a feature that is ideal for entertaining your guests.
Pendant lights are ideal for hanging over your kitchen island, creating an almost bar-like atmosphere. Follow the Rule of Three when deciding how many pendants to hang above an island to create balance in the surrounding area.
Take it a step further by installing a chandelier that can also serve as a focal point on your counter. Hanging chandeliers over tables in your seating area could also add a wow factor to your space. The size of your table area will influence the chandelier you choose. A large table demands a larger chandelier, whereas a small table requires a smaller chandelier.
Does lighting have to match?
You could argue that sticking to a single lighting theme will help to tie the space together, but you don't necessarily want to do that with open plan. That doesn't mean you should go overboard with different themes strewn about the room, but by selecting bespoke lighting, you can set a specific style while still having unique lighting.
The most important thing is to keep the space cohesive and balanced. A consistent theme of brass could be used throughout, but it should be mixed in with pendants, chandeliers, and floor lamps for example.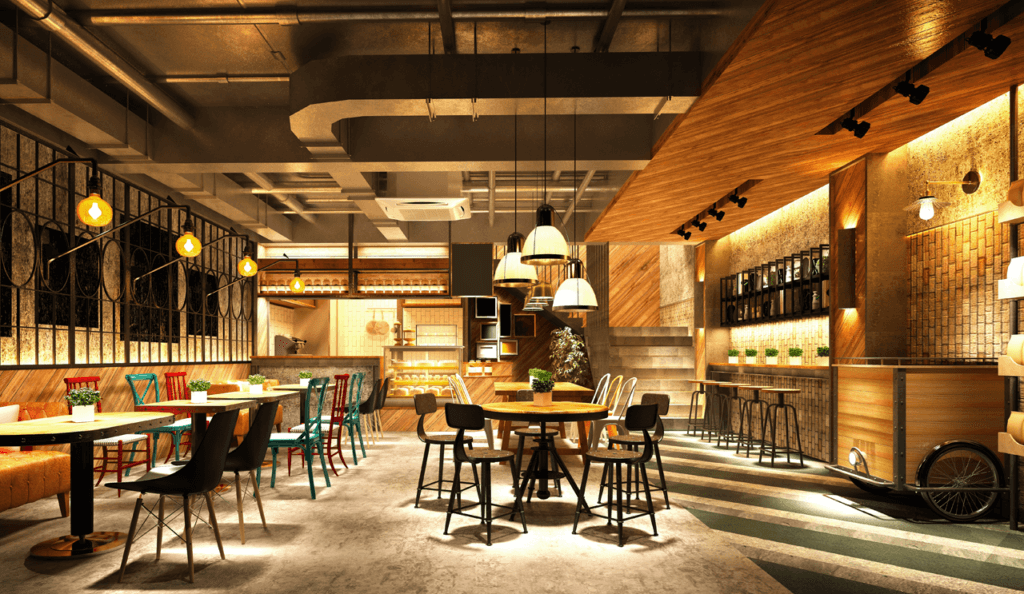 The right light for your commercial space
Light is one of the most important factors in determining a space's mood, and creating a comfortable and welcoming atmosphere is critical for your open plan bar or restaurant, which can become cold and uninviting if not properly lit.
Ambient lighting is well-known for adding warmth and depth to a room while also providing glare-free illumination. The most common sources of ambient lighting are ceiling lights, wall-mounted fixtures, or recessed spotlights.
Bespoke table lamps are great for a cosier feel while also providing a specific task, such as on tables to help diners enjoy and enhance their meals.
Our Junior radiance collection is intended for use in restaurants and other commercial/leisure settings. The custom lamps are intended to be used with rechargeable bulbs that simply sit in place. Along with the lamps, we sell a rechargeable battery charging set.
The use of small smart bulbs in your lights provides attractive lighting with complete flexibility in terms of where the lamps are placed and no intrusive wiring, and with sustainability being such an important factor now when designing your interior, these are an excellent choice.
Get in touch
The Lamp Factory London provides each client with creative ideas, technical knowledge, and product assistance. We will work with you to create bespoke lamps that will add elegance and sophistication to your open interior space.
Our skilled artisans specialise in bespoke lighting design, antique lighting restoration, and lamp conversions. The lamps are made or restored with high-quality materials such as solid brass, copper, wood, glass, gold, and a variety of other options.
If you are considering bespoke lighting for your interior talk to us today. Either telephone us on 0208 683 0721 or email us at info@thelampfactorylondon.co.uk