When creating interior spaces whether modern or traditional, eclectic or themed many aspects need to be considered. One of the key considerations is the rooms function, is the room a functional space, or for relaxation?
What kind of atmosphere are you hoping to achieve?
Lighting is one of the most fundamental elements in making any room a success, its no secret that brighter lights can make you feel more alert and awake, whereas softer lights can be relaxing and sleep-inducing.
Following are five tips for making the most of lighting in your room designs.
1. Make It Multifunctional
Each room requires lighting to serve a purpose, in the kitchen whilst cooking the emphasis needs to be on practical directional lighting to provide bright light to help create the next culinary masterpiece for the family. Equally, in modern living the kitchen or kitchen diner can be a place of relaxation in an evening, so consider statement floor lamps and subtle table lamps to help to create a more relaxing environment to sit down with a glass of Shiraz.
Making it multifunctional doesn't mean your lighting needs to be eclectic (unless you want it to be). Creating a bespoke lighting solution is a great way of creating multifunctional lighting for a room, giving you the option to produce floor, table and wall lamps along with functional directional lighting that work perfectly together and fit your design aspirations impeccably.
2. Select The Right Bulb For The Job.
Don't create a wonderful lighting design and forget about the light bulb. Light bulbs can transform an atmosphere, light output is measured in lumens. The higher the number of lumens, the brighter the light so ensure you choose the right amount of brightness to reflect your room design needs.
In recent years we've seen an influx of different shapes and styles of bulb, with the bulb taking centre stage in lighting and room designs. So, consider the aesthetic needs as well as the function.
3. Make The Most Of Your Statement Pieces
If your interior space features statement pieces, feature artwork or intriguing wall hangings make the most of them with subtle, unassuming lighting that focusses the attention on the statement piece without stealing the limelight. Picture or reading lights are perfect for this task, especially slimline designs that effortlessly provide subtle lighting without intruding on the overall design.
4. Keep It Simple
If you're looking to create space and a peaceful environment keep colour schemes and the theme/s to a minimum, along with material finishes. An over indulgence in styles and colour may create too much stimulus and an uneasiness in the interior.
It's no secret that neutral, lighter tones open up a space and make it appear larger, statement lighting and shades will add interest, consider a consistent use of metal finish for your wall lights, table and floor lamps. Less is more for productive spaces.
5. Go Natural!
Natural light is a must for any interior space, ensure you maximise the flow of natural sunlight in your interior. 'Daylighting' the process of using natural sunlight to light a building to help reduce energy costs is common practice in building design, along with wellness consideration, as natural light has many benefits for mental health.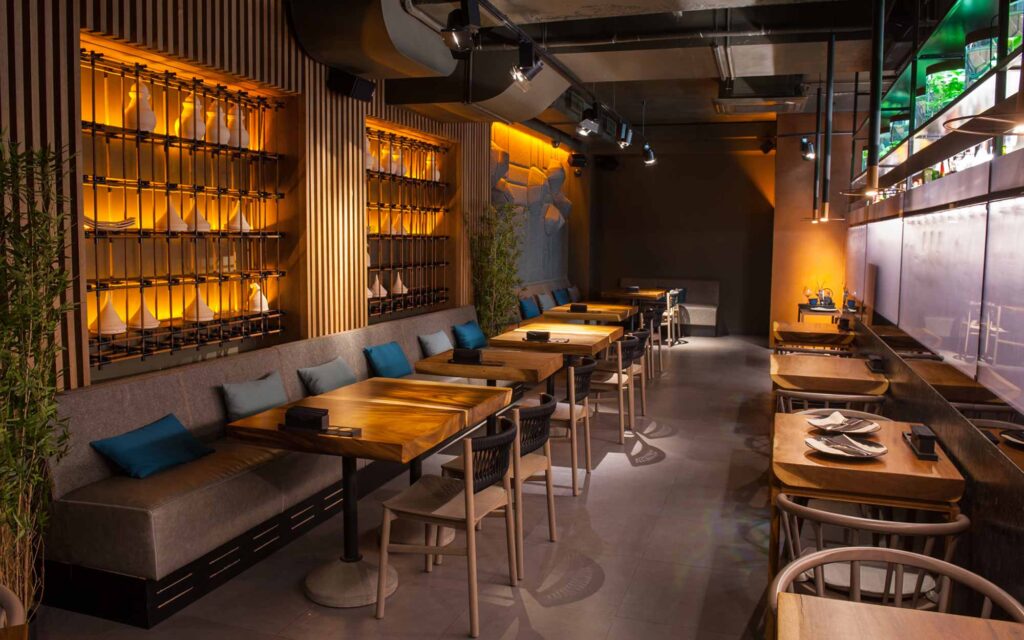 The Lamp Factory London works closely with every client and offers design ideas, technical information and product advice. Our focus is on building relationships with clients. Any material, any design, in any interior, we will endeavour to create bespoke lamps to wow you and add style and sophistication to your interior space.
Our range of bespoke table lamps, bespoke wall lamps and bespoke floor lamps can be found in many hospitality, commercial and residential interiors in London, Barcelona, Milan, New York, Madrid, Paris, Stockholm and other beautiful locations.