Lighting has become a design focal point for commercial spaces. Commercial lighting was once a practical requirement that went more or less unnoticed. Current trends suggest that commercial interior design is now bringing statement lighting to the top of the must-have list.
When looking for interior inspiration, there is much to consider when it comes to commercial lighting. In setting the mood and tone, commercial lighting significantly impacts the customer and worker experience.
In recent years, a shift towards design-led, luxury lighting in hospitality and office spaces has resulted in a renewed interest in bespoke lighting.
As organisations come to understand the value in establishing a unique identity and style, bespoke lighting plays a part in providing the exclusivity they need.
Current bespoke lighting trends are emerging from a range of design concepts.
Biophilic lighting is a growing trend in bespoke lighting, boosted by the focus on wellbeing in the workplace. Biophilic design incorporates vegetation and a connection with nature, which for lighting can involve using plants or hanging foliage as focal points of lamps, suspended lighting and pendants.
The use of different fabrics, finishes and textures creates the opportunity for unique luxury lighting design. Fabric, wood, brass, leather, cork and rattan are just some of the materials being used to create handcrafted, innovative bespoke lighting products.
Particularly on-trend is bespoke iridescent or bare lightbulbs dangling low from exposed ceilings and suspended grills. Often at eye level, these make a bold statement. The trend for dangling light bulbs is now replicated in domestic kitchens and dining rooms; a prime example of commercial trends influencing the domestic market.
The repurposing of household objects has inspired the resurgence of rustic chic in the design of commercial spaces. Handcrafted bespoke lighting, made in England, is part of this love for restoration. At The Lamp Factory, we have converted a range of items including buffalo horns and vintage oil cans into bespoke lamps. Likewise, antique lighting restoration has inspired a fascination with retro lighting that can be found in many charismatic workspaces and hospitality venues.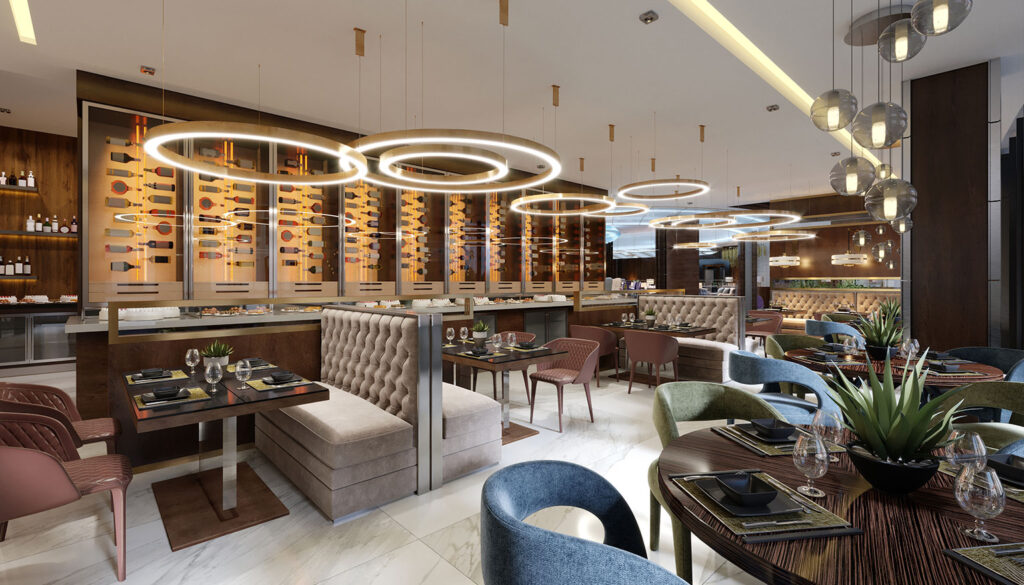 Smart lighting has become essential for modern workplaces where companies have changing preferences in how to use their lighting. This flexibility reduces expenses, boosts productivity and improves work efficiencies.
Access to smart lighting also satisfies the growing need for control over lighting experiences. This is particularly useful in hospitality where rooms often have a dual function and need flexibility in lighting, maybe for the time of day or the style of event being held.
Environmentally friendly LED luminaires
With sustainability being a key driver, LED luminaires, which accounted for 56% of global lighting revenue in 2019 are used widely as standard lighting in offices and the retail, healthcare, leisure, education and hospitality sectors. Recent trends are seeing LED luminaires being adapted to create bold and stylish statement pieces such as large contemporary chandeliers, elegant floor lamps and pendant luminaires.
If you would like to discuss commercial lighting trends or are looking for bespoke commercial lighting inspiration, please telephone us on 0208 683 0721 or email us