We are well into summer now and we wanted to run through our most popular lamps for summer styles influencing discerning interiors.
1. The Avaline Picture Light
A firm favourite is the Avaline Picture Light. The intricate styling of the slim line picture light has proved to be popular with Interior Designers and Lighting Specifiers throughout 2019.
Crafted from solid brass, the Avaline has a dimmable warm white LED which beautifully lights up fine art pieces or to provide ambient lighting for home libraries or reading rooms.
2. Regent Column Table Lamp
One of our more popular bespoke table lamps for 2019, the Regent Column Table Lamp is a stylish yet simple model.
Beautifully combining wood and brass, the table lamp features a highly detailed solid brass base which provides a sturdy and robust feel.
3. The Verge Floor Lamp
Launched back at The SLEEP Event back in 2016, the Verge Floor Lamp was very well received at the interiors event. The elegant reading lamp commanded attention from Interior Designers and Architects at the show, and as a result has featured prominently in subsequent shows – notably Decorex and SLEEP in 2017 and 2018.
Shown in an antique brass finish (other finishes are available), the Verge also features an adjustable rise and fall neck in the elegant stem, so you can increase or decrease the height of the light according to your needs.
4. The Napier Collection
The fourth and final popular statement lamp actually features three – a table lamp, floor lamp and wall lamp, all in the Napier Collection. The Napier Floor Lamp was the first one in the collection and the charming, understated looks meant that clients were starting to ask for table lamp and wall lamp options.
Sleek lines and subtle styling set the Napier Collection apart from others. We have produced the full range of Napier Lamps for clients which feature in one room. They beautifully complement one another and add elegance to any interior of distinction, whether residential, commercial or hospitality.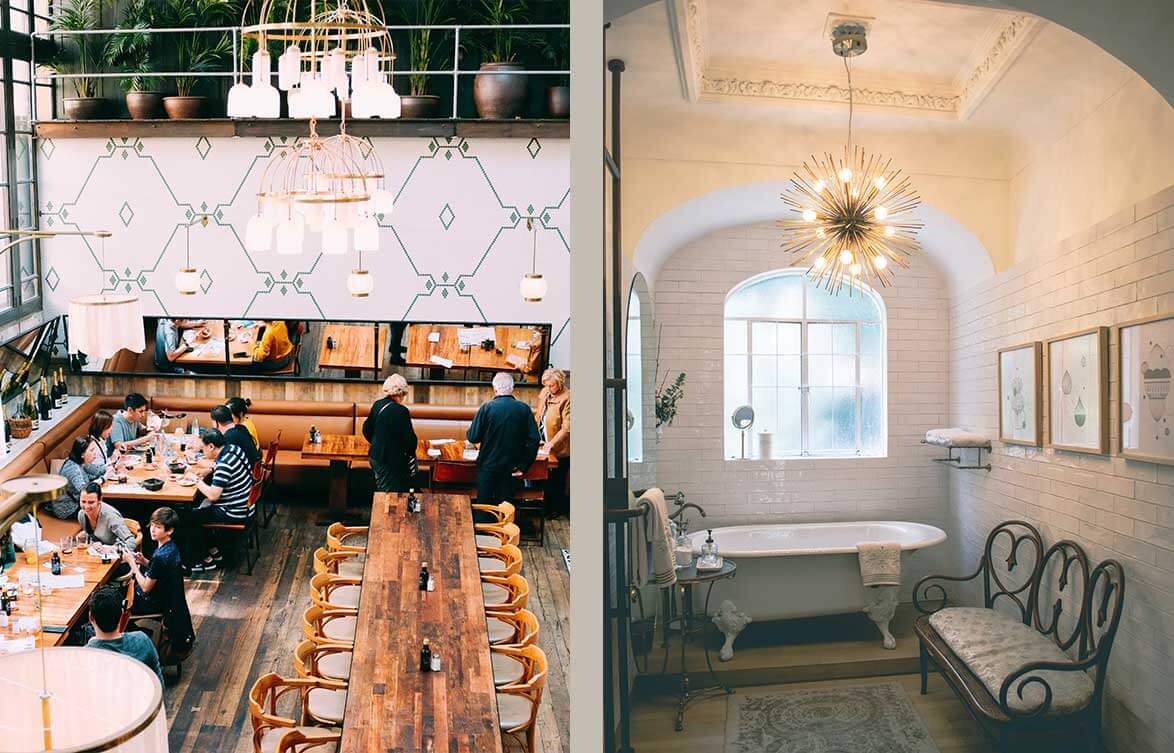 Bespoke Statement Lamps – Available To Buy Online From August 2019
Here at The Lamp Factory London, we are committed to our clients and really listen to their comments and feedback. Popular feedback has been where users would like to see the option to create and order their own bespoke lamps online.
Russell Sidney, Managing Director of The Lamp Factory London, comments, "We always love to speak directly with our clients and prospective clients over the phone or meet face-to-face. This has helped us to forge some really strong relationships with our clients.
But we have received quite a bit of feedback from clients asking if they could ever have the option to order their bespoke lamps online. After giving it some careful thought, we decided to go for it and create an e-commerce element to our website which enables clients to order their bespoke lamps online.
Initially, it will only be a selected range of our lamps available. But we are excited to see how clients use the facility and make their buying process easier.
We will always be at the other end of the phone for advice and technical questions, due to the bespoke nature of our lamps. But for the clients who wish to perhaps re-order a previous specification or for the clients who simply know what they want, the option for them to create and purchase directly from our website will be available soon (from August 2019)."
From late August 2019, users will have the option to purchase online the following lamps – the Avaline Picture Light; the Regent Column Table Lamp; the Verge Floor Lamp; the Napier Collection including wall, table and floor lamp options.
Users can build their specification online, choosing the required finish, sizes and materials selections. To complement the online purchasing facility, our full range of technical tearsheets will also be available for each and every lamp, further strengthening our commitment to lighting and design professionals.
Makers Of Fine Quality Lighting
The Lamp Factory are makers of fine quality lighting and specialists in antique lighting restoration and lamp conversions, creating bespoke, decorative, statement lamps hand-made in London.
Our range of lighting offers traditional designs as well as new and exciting ideas, consisting of table lamps, wall lights, ceiling lamps, and floor lamps. Within these ranges a selection of stunning metal designs can be found, all lovingly produced by skilled British craftsmen.
In addition to the range of wall, floor, table and ceiling lamps, the Lamp Factory, London undertakes restorations and conversion work, and are used to the high demands in quality of work this entails. Russell and his team have converted a range of wonderful items into fully working lamps, from buffalo horns to vintage oil cans, and commemorative champagne bottles. The Lamp Factory's restoration work involves working with beautiful materials like marble and glass where care and attention to detail are the utmost concern.
For further information, please contact The Lamp Factory London by telephone on 0208 683 0721 or email us