Back to search results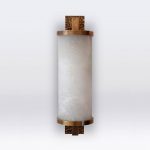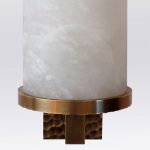 Alabaster Tube Light
£1,480.00 – £2,220.00
As the name suggests this cylindrical lamp incorporates a striking tube of alabaster, encapsulated at either end by solid brass fittings, finely finished with an intriguing 'hammered' textured backplate.
The Alabaster Tube Light is a wall light that can be used individually or complimented by The Lamp Factory's Alabaster Table Lamp. This lamp is ideal suited for bathroom applications.
Please note, the price shown is our retail price. If you are a trade professional please register or login to your account for trade pricing.
Dimensions
Height: 386 mm
Height of shade: 271 mm
Diameter of shade: 110 mm
Width of backplate: 63 mm
Technical Information
Lamp type: 1 x B22 UK, 1 x E27 EU, 1 x E26 US
Finish options: Semi translucent rock
Lamp type energy saving: Suitable for Incandescent or LED equivalent
Lead time: 4 – 6 weeks
Dimensions
Height: 386 mm
Height of shade: 271 mm
Diameter of shade: 110 mm
Width of backplate: 63 mm
Technical Information
Lamp type: 1 x B22 UK, 1 x E27 EU, 1 x E26 US
Finish options: Semi translucent rock
Lamp type energy saving: Suitable for Incandescent or LED equivalent
Lead time: 4 – 6 weeks