Back to search results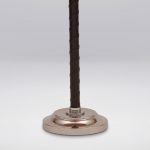 Grange Table Lamp
£1,185.00 – £1,777.50
The Grange is a beautifully designed table lamp, which uses different materials to stunning effect. The base consists of a lovely antique brass finish which helps to give the lamp a sturdy and robust feel.
The stem is wrapped in an intricate leather design which adds class to the lamp. Finally the shade is featured in an antique copper design.
Metal shade included.
Please note, the price shown is our retail price. If you are a trade professional please register or login to your account for trade pricing.
Dimensions
Height: 470 mm
Base: 135 mm
Shade size: 280mm
Technical Information
Lamp type: 2 x UK E14, 2 x E14 EU, 2 x E12 US | 240v/110v
Finish options: All finishes available/leather colours
Lamp type energy saving: LED only
Shade options: Metal/cloth
Lead time: 4 – 6 weeks
Dimensions
Height: 470 mm
Base: 135 mm
Shade size: 280mm
Technical Information
Lamp type: 2 x UK E14, 2 x E14 EU, 2 x E12 US | 240v/110v
Finish options: All finishes available/leather colours
Lamp type energy saving: LED only
Shade options: Metal/cloth
Lead time: 4 – 6 weeks