Back to search results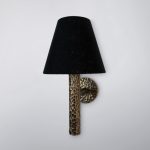 The Ashby Single Wall Light
£420.00 – £630.00

The Ashby Single Wall Light adds a touch of sophistication to any interior, handcrafted from brass this elegant lamp features a textured 'hammered' finish that creates impact and intrigue.
It's a wall light that compliments a range of interior design styles, whether modern or traditional, eclectic, or simplistic.
Shade not included.
Please note, the price shown is our retail price. If you are a trade professional please register or login to your account for trade pricing.
Dimensions
Height: 216 mm
Backplate diameter: 85 mm
Projection: 135 mm
Technical Information
Lamp type: 1 x UK B22, 1 x EU E14, 1 x USA E26 | 220v or 240v / 110v
Finish options: All finishes available
Bulb type – Energy saving LED
Lead time: 4 – 6 weeks
Dimensions
Height: 216 mm
Backplate diameter: 85 mm
Projection: 135 mm
Technical Information
Lamp type: 1 x UK B22, 1 x EU E14, 1 x USA E26 | 220v or 240v / 110v
Finish options: All finishes available
Bulb type – Energy saving LED
Lead time: 4 – 6 weeks