Restaurant lighting plays a major part in the dining experience and serves a number of purposes. Not only does it help to create an ambience to boost diners' experience, but also helps to enhance the appearance of the food and affects the way food is eaten.
So what makes good lighting in restaurants?
To create an effective lighting specification and design for a restaurant interior, there are a number of factors we advise at The Lamp Factory London. Our hands-on approach in creating bespoke lighting for restaurants will guide you through the specification process.
Integrate lighting into early design plans
You have much more control and design scope when you integrate lighting schemes into early design plans. Restaurants and bars can be complex spaces to light up.
It is important to consider factors such as how the lighting around the bar area will be different to lighting around seating areas.
Another factor to consider is how the lighting will be different during the day compared with the evening. In the morning and afternoon, you may opt for a bright, bold atmosphere to help boost diners' moods and energy levels. Whereas in the evening you may want softer lighting to evoke a sense of intimacy.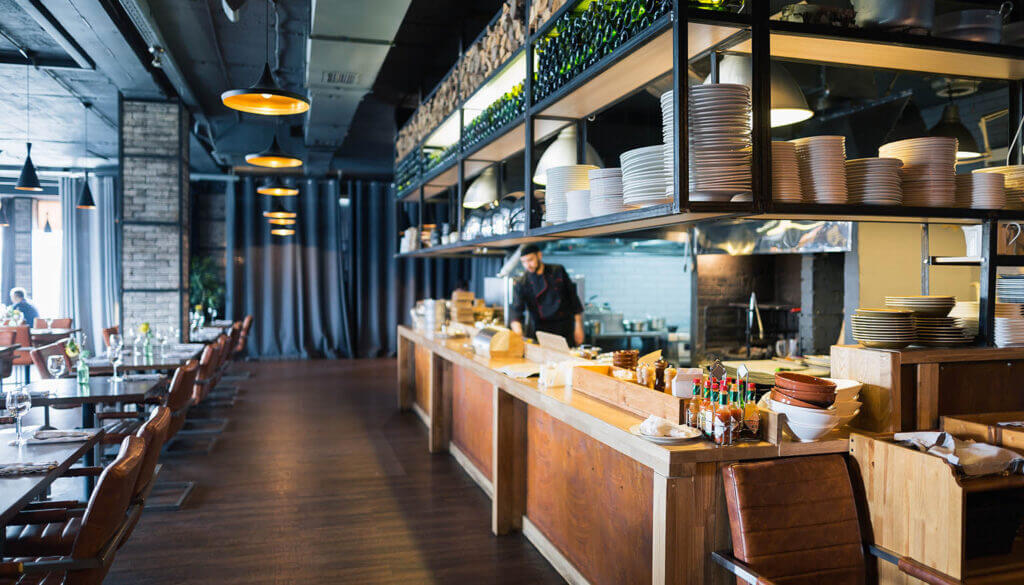 How to design lighting in early design stages
By incorporating lighting schemes into early design plans you have complete control in the form and function.
So you are able to design the lamps to accentuate the internal styling, as well as ensuring all cables and power sources are hidden from site as much as possible.
Once you have a layout plan of the restaurant, you can work out what is achievable. Which takes us on to our next factor, considering how you use light.
Consider how you use lighting
It is crucial that the lighting design fulfills a purpose or solves a problem within a restaurant space. Are the seating areas lit enough so diners can see and enjoy their food, while not being too overpowering. Do you need statement lighting to enhance the bar area?
Layering the lighting in a restaurant is crucial to create the right ambiance. There is ambient lighting, accent lighting and task lighting.
Ambient lighting refers to the general lighting units within a room, to provide essential lighting for diners' and work colleagues' visibility. Typical examples would include ceiling lights.
Accent lighting are lamps that are used to highlight particular zones or elements within a restaurant, for example seating areas or the bar area. We were proud to supply bespoke lighting for two Mayfair restaurants – Le Comptoir Robuchon and Le Deli Robuchon.
Our team handcrafted seventeen bar lamps featuring beautiful alabaster shades to provide welcoming and delicate lighting for the bar area. We also designed and supplied six brass wall lamps, three alabaster table lamps (to accentuate the bar lamps) and three Avaline Picture lights.
Task lighting is the final consideration, where lighting is used within a restaurant to provide a particular task, for example table lamps to help diners enjoy and enhance their meals.
We have recently supplied a collection of Eton Junior table lamps to restaurant refurbishments. As many restaurants are making plans for re-opening after lockdown, we have worked with a number of restaurants and interior designers.
Part of our 2021 Collection, the Eton Junior table lamp has a real advantage in that it can use rechargeable smart bulbs. This means there are no unsightly wires and you have so much flexibility in where you place the table lamps. And as the lamp is only 175mm in height they fit perfectly onto compact tables.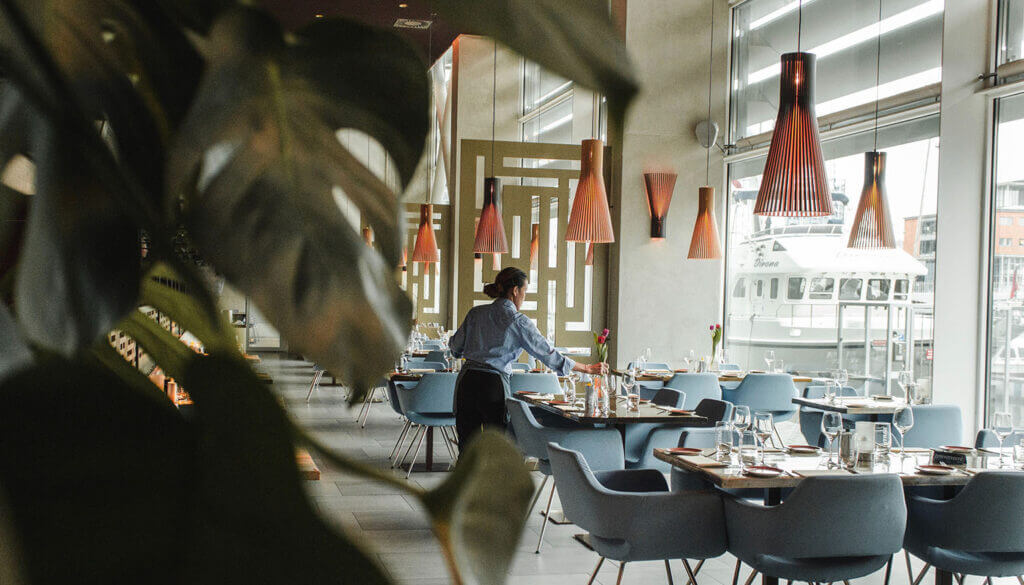 Material selection is our final consideration for creating effective lighting specification. Current trends often dictate popular materials, but generally, metal lamps provide a timeless appeal.
We use solid brass for most of our lamps and is an incredibly durable and elegant material to use. It can feature comfortably in traditional or modern and contemporary designs with stunning aesthetic and functional qualities.
Our collection of bespoke wall, table and floor lamps combine various elegant materials, including brass, alabaster, wood, glass, and copper.
How do I start the lamp design process?
Simply contact our team either by telephone on 0208 683 0721 or email info@thelampfactorylondon.co.uk Tell us all about your home office desk, any styles or ideas you may have, and even send us a photograph of your workspace area.
We will happily talk through possible designs and material selection.
If you are an interior designer and you are looking for lighting inspiration for your client's home office project, then talk to our team. If you have a conceptual design, mood board, or if you're at the very early stages of project development, we can help.
Our team has years of experience in guiding our clients through the lighting specification process. From initial concept design, through to manufacture then delivery to site, we can take care of the whole process.
View our case studies where our lamps have been specified into a luxury Icelandic retreat and also in a stunning Mayfair restaurant.
If you are considering bespoke lighting for your interior talk to us today. Either telephone us on 0208 683 0721 or email us at info@thelampfactorylondon.co.uk