Managing Director Russell Sidney started creating beautiful bespoke lamps back in 2008 in the modest surroundings of his back yard, following a twenty-five-year career producing high quality lamps for a leading manufacturer. Ten years on and the business is thriving.
Today Russell leads an expert team from his factory in Croydon, South London. The factory is a hive of activity with four dedicated workshops; a brass machining workshop, a woodwork shop, metal finishing workshop, and an electrical wiring workshop, with 16 highly skilled craftsmen producing lamps of the highest quality. The team has expanded over the years with the success of the business and undertakes work requiring true skill and proficiency in the art of making lamps.
At the start of 2018 The Lamp Factory, London acquired a showroom at the world-renowned Design Centre at Chelsea Harbour (112 Design Centre East, Chelsea Harbour) to showcase their ever-increasing portfolio of lamp designs. Although clients are actively encouraged to visit the factory, the showroom at Chelsea Harbour provides clients with an easy to get to central London location and a meeting point right at the heart of the interior design world.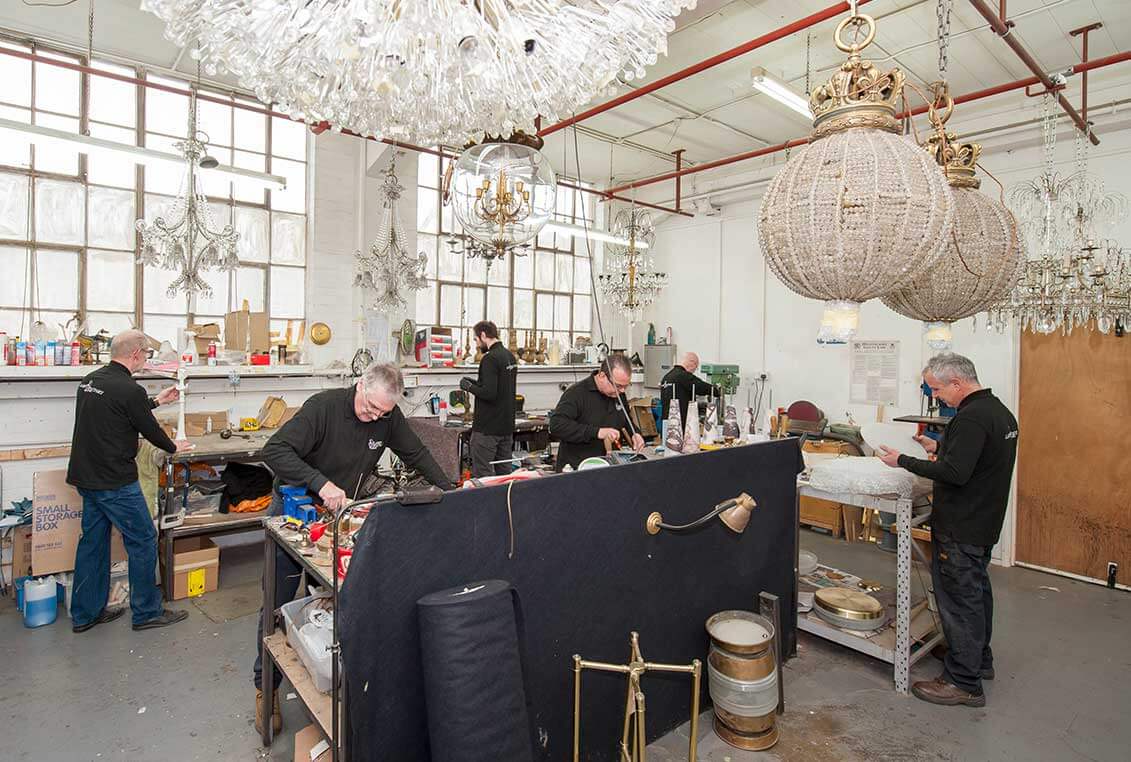 Russell Sidney, Managing Director comments:
"When I started the business ten years ago my focus was on creating the beautiful bespoke lamps from the highest quality materials. Today it's still the same yet I have a few more skilled hands to help get things done! For me it's a passion, the materials, the skill, the tools, the artistry and the designing, I love lamps!
From day one, the Lamp Factory's problem-solving skills have been central to the success of the business. Lamp Factory are regularly asked for custom designs incorporating a range of materials, from the simplest of briefs, often from a basic sketch.
Russell is a man who thoroughly enjoys his work, a 'hands on' man who thrives on producing new and interesting designs, whilst very focused on the detail of each lamp. Russell is involved with every aspect of the manufacturing process from the client brief to polishing each lamp before it leaves the factory."
Russell continues:
"I believe we are especially good at problem solving here at The Lamp Factory, we have clients old and new, who come to us to seek our advice and guidance on how to create a lamp for a specific requirement or wanting to make a statement in their home or their interior designs"
Makers Of Fine Lamps For High End Interiors
During the last ten years of business The Lamp Factory, London has worked closely with interior designers and supplied the finest hotels and interiors. This close relationship with interior designers has regularly forged new and exciting designs but also, and importantly expanded the skill base and methods of the Lamp Factory team via experimentation with new techniques and processes. This willingness to develop ideas and seek product solutions is testament to Russell, his team and The Lamp Factory's ethos.
Bespoke Designs, Restoration And Conversions
The Lamp Factory, London undertakes lamp restorations and conversion work from the most prestigious interior designers and antique dealers in London and are used to the high demands in quality of work this entails. Russell and his team have converted a range of wonderful items into fully working lamps, from buffalo horns to vintage oil cans, and commemorative champagne bottles. The Lamp Factory's restoration work involves working with beautiful materials like marble and glass where care and attention to detail are the utmost concern.
The Lamp Factory offer customers something a little different; fine craftsmanship, bespoke designs, beautiful conversions, restorations, and genuine passion and care for the thing they do best; produce high quality lamps.
The Lamp Factory London proudly creates bespoke, beautiful lamps for distinguished interiors all over the world. They feature in boutique, luxury hotels in London, Paris, New York, Milan and Barcelona; high-end residential properties; luxurious commercial developments including city centre retail premises and law firms; and even celebrities' homes.
New Statement Collection
The Lamp Factory London are pleased to be introducing our new Statement Collection at Decorex 2017, and later in the year at SLEEP Event 2017. Featuring bold new designs and intricately crafted lamps, our Statement Collection is designed to inspire distinguished interiors in residential, commercial and hospitality settings.
You can find us at stand J31 at Decorex, and you are very welcome to come and view our collection of decorative, bespoke lamps. Our lighting experts will be on-hand to inspire you, take you through our beautiful new range, and work with you should you have any ideas for your interior project.
To register for a ticket to the event, click here
If you are currently working on a high-end hospitality, residential or commercial project and would like to discuss our range of highly bespoke lamps, please telephone us on 0208 683 0721 or email us. Don't forget to follow our social media channels for the very latest product developments, industry news and design inspirations.