Architectural lighting is an important part of the project and should not be an afterthought when designing interiors. It is a much more complex procedure than simply selecting the appropriate design fixture. Lighting changes and transforms a room. We use light to create a comfortable and dramatic ambience while lighting that is skilfully placed can add a whole new element to an interior.
To begin with, it is critical to understand the function of the space on which the light design is for. It should enhance the character and functionality of an interior space. In a commercial space, task lighting would be used as it is there to perform a specific task, such as overhead lamps across a bar.
Architectural lighting can be used to enhance the space when redecorating a room in a home. Guiding your eyes through the space or framing the windowsills and drawing attention to the view outside.
For a new build, getting involved in the lighting in the early stages means having a blank canvas to work with. Looking at room dimensions, smaller spaces like a hall may only need wall lights. For a kitchen/living room strip, lights will be more beneficial. An open plan might benefit more from a statement piece of lighting such as a chandelier. Layering rooms with different types of light can add different levels to a space and works wonders to open up a space.
Architectural lighting can be used to draw attention to areas that need it, or it can be used to create cosy spots, ideal for a restaurant or a cosy nook in the house and is a task that should not be taken lightly.
Architectural lighting for distinguished interiors
A good lighting design for interior spaces requires matching the lighting design and functionality to the interior's requirements. Architectural lighting for distinguished interiors is used to enhance the space and is an important factor in creating the right atmosphere and environment in any interiors.
For the luxury interior, accent lighting will be an important aspect. It is used to draw attention to specific elements such as paintings, an entrance, or an architectural feature. Accent lighting, such as an exquisite chandelier can be used to light a space as well as stand-alone as a stunning focal point.
There are various metal trends in lighting and understanding these can help differentiate between the lighting that is chosen for the space. Warm metals like brass and copper offer a vintage look whereas cool metals like aluminium, stainless steel and chrome are usually used for more modern minimalistic spaces and add brightness to interiors due to its reflective qualities. Cast iron, bronze, and other black finishes can be found in the neutral camp. Lighting with black metal accents complements most interior colour schemes.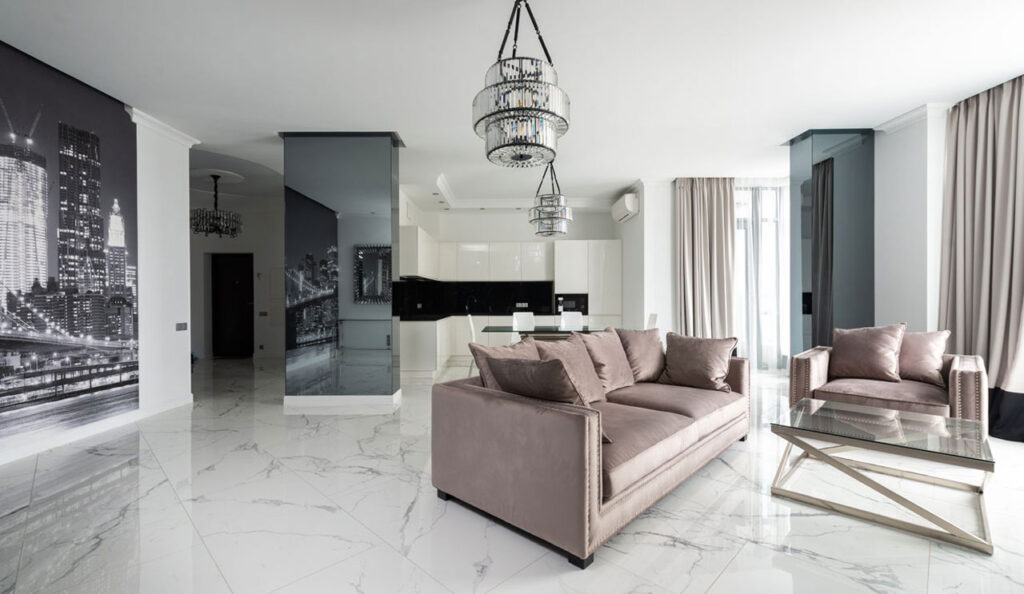 Architectural lighting trends in 2022
There are quite a fair bit of lighting trends to look out for next year that are making waves through interior websites and design blogs.
Alabaster light fixtures are expected to be plentiful by 2022 due to their organic peaceful nature and go perfectly with the neutral tone trend which has been a firm favourite with interior designers. Especially if you prefer a more antique, bespoke look. Alabaster lighting provides a soft, warm light that people are now craving. Alabaster is also ideal for the retro vintage trend that is currently popular.
Statement lighting is another popular lighting trend as we are starting to see a shift toward more abstract and sculptural styles. Brass details, art deco shapes and opaque glass can bring a touch of elegance to a commercial or residential space.  Bold architectural pieces will give the room that wow factor while serving as their functional purpose, spotlighting those dim dark areas.
Industrial lighting continues into 2022 with its raw materials such as metal inspired by the factory workplace. Black has a special place in the Industrial factory scheme and helps to outline the space. As a result, it is used for decor attributes that are reminiscent of the factory environment.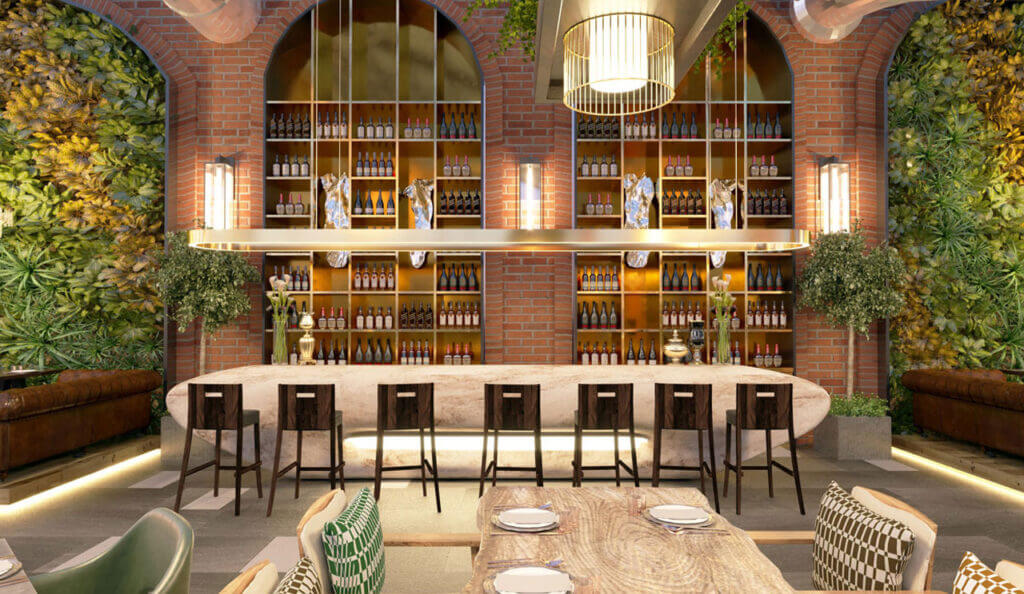 Lighting inspiration for your project
So, what are the main Lighting types?
General
Ambient
Mood
AccentTask
The foundation of a lighting scheme is in the general lighting. Downlighting is a good example of this, and it is used for practical purposes. Ambient lighting provides an indirect source of light that is typically much softer than general lighting. Mood lighting can add layers to a lighting scheme by creating spots of light such as floor lamps and table lamps. Accent lighting and task lighting are designed to draw attention to a specific feature or object in a room, such as artwork or shelving. Task lighting is used in areas such as over worktops in a kitchen. Task lighting is more practical in its approach.
The Lamp Factory London collaborates with each client to provide design ideas, technical information, and product advice. Our primary goal is to develop client relationships. We will work with you to create bespoke lamps that add style and sophistication to your interior space, regardless of the material, design, or interior.
If you are currently working on high-end hospitality, residential or commercial projects and would like to discuss our range of bespoke lamps, please telephone us on 0208 683 0721 or email us.