Back to search results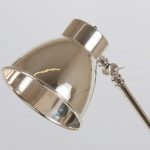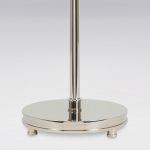 Brooke Reflector Lamp
£1,415.00 – £2,122.50
Effortlessly combining a modern desk lamp style with traditional, vintage materials, the Brooke Reflector Lamp is a highly distinctive model in our table lamp range.
Hand-crafted in various metal finishes (model shown is in a polished nickel), this adjustable table lamp features a metal shade with on/off switch incorporated into the back.
The stem has two adjustable screws. The lamp features a turned solid brass base with beautifully crafted feet.
Metal shade included.
Please note, the price shown is our retail price. If you are a trade professional please register or login to your account for trade pricing.
Dimensions
Height: 670mm
Base diameter: 170 mm
Reflector: 70 mm (top) x 140 mm (base)
All metal finishes available
Technical Information
Lamp type: 1 x UK E14, 1 x E14 EU, 1 x E12 US | 240v/110v
Finish options: All finishes available
Lamp type energy saving: LED only
Lead time: 4 – 6 weeks
Dimensions
Height: 670mm
Base diameter: 170 mm
Reflector: 70 mm (top) x 140 mm (base)
All metal finishes available
Technical Information
Lamp type: 1 x UK E14, 1 x E14 EU, 1 x E12 US | 240v/110v
Finish options: All finishes available
Lamp type energy saving: LED only
Lead time: 4 – 6 weeks