We have now hit the autumn season and next, it will be Christmas; 2021 we can say has gone very quick! So of course, we are looking at what 2022 will be bringing us. Interior design trends are constantly changing and evolving and 2022 will be no different for this.
Natural and sustainability are two major words that have been a focus in architecture and the interior design world and are set to continue into the new year, so we decided we would investigate what these and other trends are making a big return or set to continue into next year.
A major interior trend that's been happening in 2021 and will continue into 2022 due to its organic and calming nature, is natural materials. The most popular natural materials being, marble, onyx, alabaster, and wood which work perfectly in a light colour palette, using these materials in furniture and decoration. Wood is also a very good insulator and perfect when thinking about environmental factors. Materials like these also bring a calming and comfortable effect as well as durability which are key elements for home interiors too and perfect with sustainability being so important.
This trend is not going away any time soon. With working from home still being a favoured option and more people settling on smaller spaces to cope with the economy, architectural and interior design are favouring the multifunctional space. 2022 will come out with more interesting ways to use and save on space. From creative dividing room ideas such as sliding walls and vertical space-saving techniques such as platforms and shelving as well as bespoke wall lighting that will add layers to even the smallest of rooms without compromising on space.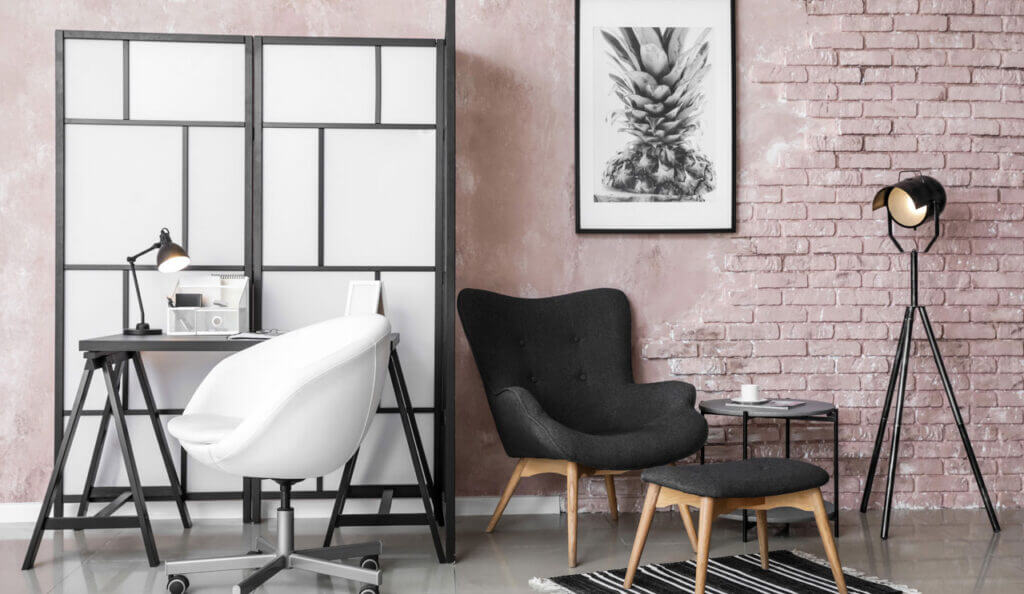 Biophilic design is the idea of incorporating nature into our indoor environment. The reason for this is to focus on creating a calming space as well as being crucial for our environment by reducing our carbon footprint and helping to regulate temperature. This trend has largely been brought about by the pandemic and our quarantine habits. Bringing the garden indoors became beneficial for people who had no garden and brought tranquillity to a person's surroundings. This trend has now stuck due to its relaxed atmosphere making our home our sanctuary.
Modern sharp edges have been an interior designer dream for a while now but lately, we have seen a shift in this with people favouring softness and rounded shapes in furniture and lighting. Softer and more rounded interiors can make a place feel more relaxing, giving off zen-like energy, acting as a perfect complement with nature-inspired design.  Rounded lamps such as The Lamp Factory's  Cadogen floor lamp curved stand with a repositionable dome-shaped shade works perfectly adding an organic softness to your interiors.
Organically inspired lighting
Good lighting can create a sensory experience and natural organic inspired lighting like warm colours and natural materials offer a soothing atmosphere, gently illuminating interiors. Think raw materials combined with soft texture; metals, stone, raffia, and glass compliment warm lighting and create a unique atmosphere in the house, promoting well-being and serenity. Neutral material, alabaster, is going to be seen a lot in 2022 in lighting. Alabaster offers beautifully organic shapes while providing soft, warm lighting that is a must for people's homes next year. Neutral organic lighting can open up spaces and create peaceful environments and as we can see from all the design trends currently trending and continuing into 2022, we are wanting a calming natural and sustainable environment.
Get in touch
The Lamp Factory make a wide range of handmade lamps, including bespoke floor lamps, bespoke wall lamps and bespoke table lamps. For more information on how we can design your bespoke lighting, get in touch.