With a variety of styles, shapes and sizes available, choosing the right table lamp that's perfect for your space isn't a straightforward task.
Table lamps have always been a hugely popular choice for providing both functional and mood lighting over the years. In recent times the popularity of table lamps has increased significantly with designers and homeowners increasingly using them as focus pieces to truly make a mark on an interior space.
 Here is a list of five key areas to consider when specifying your table lamps.
Function.
First of all, irrespective of how great the lamp might look, consider the table lamps function.
What is the purpose of the lamp? Will it mostly be used as practical lighting for reading or occasional mood lighting for a relaxing evening? Consider extra uses, for example creating a bespoke lamp with integral USP charging point might be ideal for a desk, the perfect place to charge up your smart phone.
Consider whether the table lamp is for ambient use – room lighting or mood setting, task – fulfilling a specific role, for example lighting an office desk to enable reading, accent – focus lighting for a particular feature in a room, and aesthetics –  should it create a statement or complement an overall design?
Size.
So now you know what function your light will be performing, make sure you know what size it needs to be, specifically proportion.
Ensure the size of your light is in proportion with the room its in and the exact location, for example the table it sits on. It's amazing how awkward a tiny lamp can look on a large table, or conversely a massive light sat on a small table.
Proportion also comes into play when choosing the correct shade for your light.  For a general guide the height of the shade should be about 50-75% the height of the base, and have a diameter roughly equal to two-thirds of the height of the base up to the level of the bulb.
Given the broad range of shades and styles out there, the choice of shade often comes down to simply using your eye, trying a few options and seeing what works best proportionally.
Form
With a plethora of lighting styles and designs available it's important to know exactly what style you require? Mid-Century Modern? Industrial? Bohemian? or 80's Retro? Will the lamp be adding to the design style of the room or adding a subtle contrast of styles?
The range of exquisitely-made, designer and bespoke handmade lamps and lighting options available now means that you can choose a lamp that matches your exact needs, and the character of your room.
One Or Two?
A single lamp can create a 'wow' factor to any interior, however consider a pair of matching lamps to create a sense of balance and calm. Incorporating matching pairs of table lamps into an interior design plan can help with symmetry and layering lighting.
Equally, consider using lights from the same family, for example combine a wall light and floor lamp, or table lamp and wall light. The Napier range of lamps by The Lamp Factory London is a stunning collection of floor, wall and table lamps that harmoniously complement each other.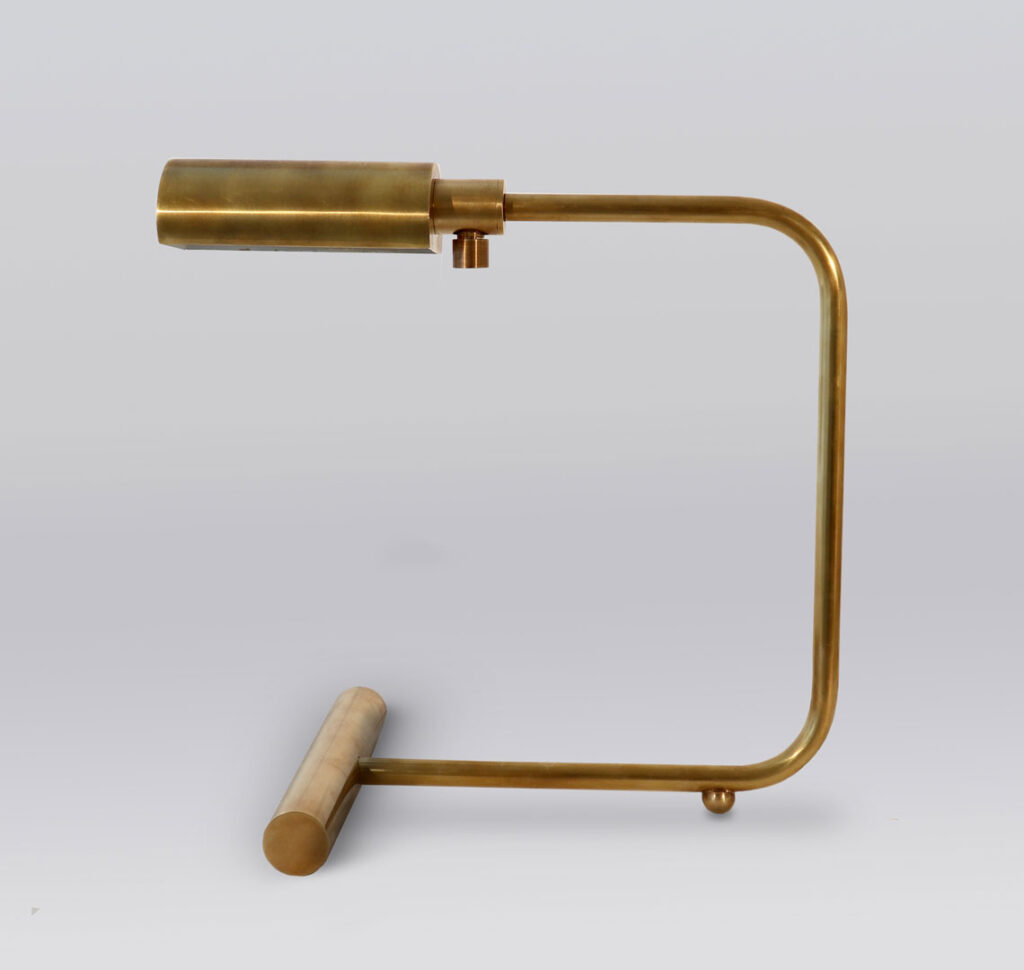 The Lamp Factory London works closely with every client and offers design ideas, technical information and product advice. Our focus is on building relationships with clients. Any material, any design, in any interior, we will endeavour to create bespoke lamps to wow you and add style and sophistication to your interior space.
Our range of bespoke table lamps, bespoke wall lamps and bespoke floor lamps can be found in many hospitality, commercial and residential interiors in London, Barcelona, Milan, New York, Madrid, Paris, Stockholm and other beautiful locations.