The underlying trend for lighting in 2021 is bold design. With lighting now very much an interior design focal point, bold lighting has found its moment.
It's as if the focus on our homes during the pandemic has made us all want more. Settling for basic interior design is no longer acceptable, and lighting is playing an increasingly large part in the design of our homes.
When it comes to table lamps and floor lamps, there is so much scope for using strong colours and impactful designs that transform the aesthetics of a room.
If your table lamp is a focal point of conversation even when it's switched off, you know it's making a statement! A pair of bold table lamps has even more impact and works well at framing a sofa or bed. Table lamps that make a bold statement come in various styles.
Sculptural table lamps
Nothing says bold, luxury lighting more than a sculptural table lamp. These bold table lamps are usually textured and chunky, yet intricate. They can be used to reflect your personal taste in art and sculptures, and how that taste influences your interior design.
Vintage industrial table lamps
The Edison bulb style of industrial table lamps became hugely popular in 2020, continuing into 2021. These bold table lamps can be used on desks, shelves and tables to bring a nostalgic focal point to a room.
Patterned table lamps
Patterned and colourful table lamps are bold statements, yet they create a cosy, homely space. With a nod to decades gone by, they can either provide a unique focal point against a plain, contemporary backdrop, or complement other furnishings in a colourful room.
Floor lamps are typically used either for luxury lighting pieces or for task lighting. Some even double up as side tables! Bold floor lamps are becoming an increasingly popular part of interior design.
Statement floor lamps
Elaborate design and unique features are the basic requirements for statement floor lamps. Often a bespoke lighting project, statement floor lamps are manufactured to a customised specification to bring a room to life. The stand may be sculptural, perhaps depicting an animal, tree or flowers. Whatever the design, a statement floor lamp will always be a talking point in a room.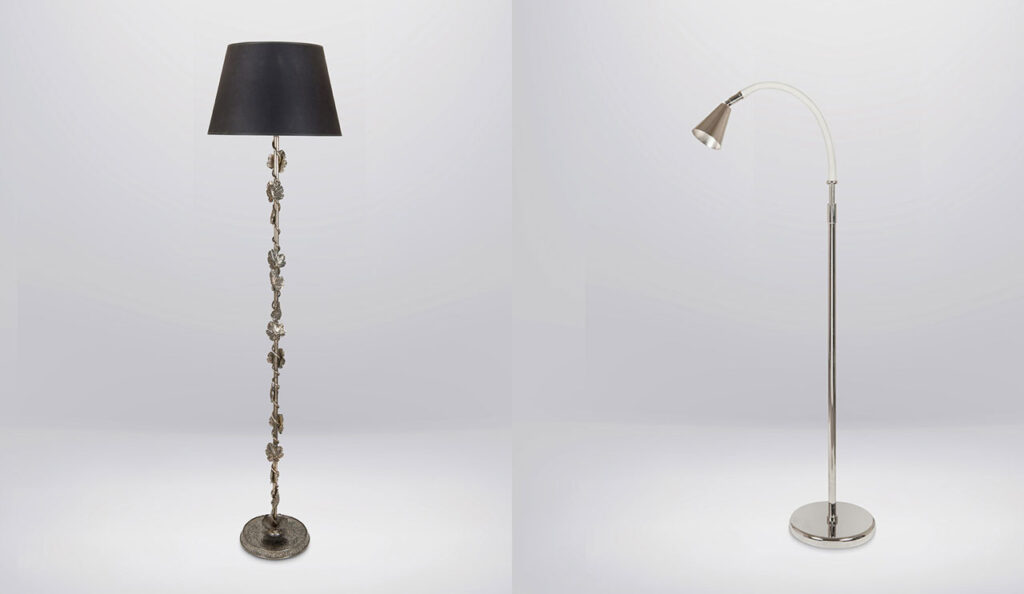 Popular in 2021 is the double-arm floor lamp. From industrial lighting design, it has a mechanical appearance with a wingnut that allows for the angle of the lamp to be adjusted. Directional lighting is functional, but with bespoke lighting shades and bases, the double-arm floor lamp will stand out against both traditional and contemporary décor.
Arc floor lamps
An arc floor lamp is an imposing feature with its commanding arc suspended over furnishings. However, it's not just a bold floor lamp lapping up the attention; a strategically positioned arc floor lamp can also save valuable space on desks or side tables. Arc floor lamps come in a variety of bold colours and shapes while providing a homely, yet contemporary feel to a room.
Can we help?
If you would like to discuss bold lighting for your home or commercial space, or you are looking for inspiration, the Lamp Factory can help. Please telephone us on 0208 683 0721 or email us at info@thelampfactorylondon.co.uk.