Recent metal trends in lighting and interior design have revisited the comforting world of retro, shabby chic. This is the same for lighting design with the simplistic minimalism of themes such as exposed bulbs and wiring, and rustic colours.
This retro-chic is often achieved through bespoke metalwork. Metal lighting design creates an eclectic effect through the character of each individual lamp.
What are the various metal trends in lighting?
Warm metals
In the warm metals category you will find brass, copper and bold. For a vintage look, aged or antique brass naturally fits the bill.
Cool metals
Silver coloured metals such as aluminium, stainless steel, chrome and polished nickel fall into this category. They're usually used for modern spaces, adding brightness and light due to their reflective attributes.
Neutral metals
In the neutral camp you will find cast iron, bronze, and other black finishes. Bronze contrasts perfectly with the natural tones of wood and stone. It also matches well with marble and granite worktops in kitchens. Lighting with black metal highlights complements most interior colour schemes.
Let's look at some of the more popular metals used in bespoke lighting.
Brass is popular for creating a traditional theme in wall lights, table lamps, floor lamps and ceiling lights. Aged brass and antique brass lighting works beautifully in homes of a certain age.
Using brass bespoke lighting adds warmth, style, and elegance to interior design. Polished brass is a great addition to colourful, bright interiors while antique brass creates a cosy and warm classic look.
Chrome bespoke lighting
Chrome, brushed chrome, and polished chrome are all used usually in modern spaces, but they can also work well in traditional settings.
Chrome spot lighting and downlights are popular in kitchens and bathrooms. A chrome finish on bespoke lighting is sleek and stylish and looks stunning in contemporary homes. Chrome is also versatile as it can be paired with many different interior design styles and materials.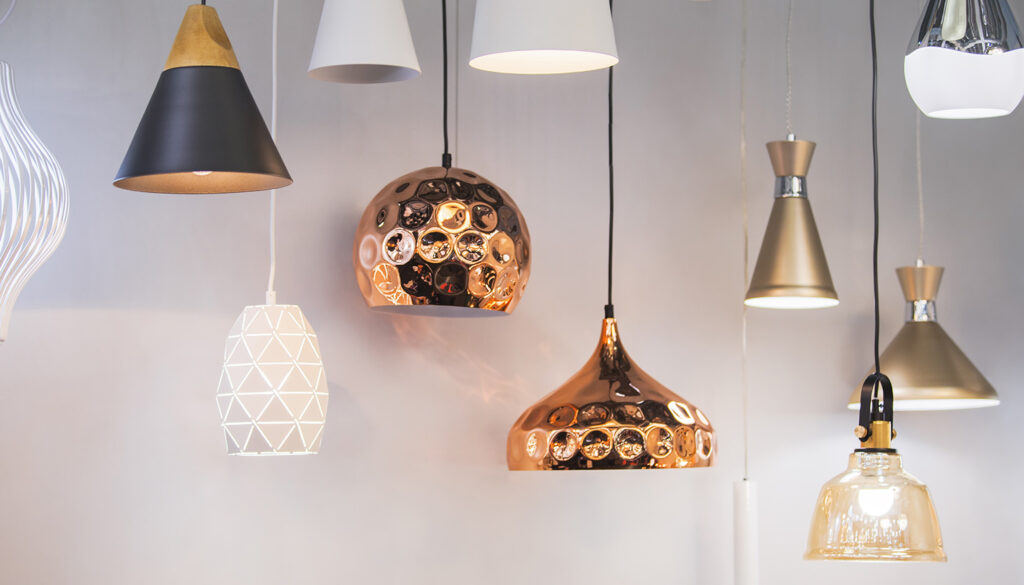 Cast iron and bronze bespoke lighting
Cast iron and bronze are particularly popular choices for pendants and wall lights. Chandeliers with cast iron or bronze metalwork finishes can be made to look very grand and luxurious.
Against a backdrop of wood and natural tones, bronze metalworking continues the rustic theme, while offering a striking contrast. Wall lamps, ceiling lights, floor lamps and table lamps with cast iron or bronze finishes bring tradition and sophisticated chic to both domestic and commercial spaces.
Mixed metalworking in bespoke lighting
Finally, an emerging trend is to mix metals in bespoke lighting. Warm and cool colours can be mixed to have one dominant and one accent colour. The choice of which is dominant, and which is the accent, will depend very much on the space the lighting is designed for. Neutral coloured metals can mix with both warm and cool metals. You just need to be sure that the dominant metal works well with the furnishings in the room.
Can we help?
If you would like to discuss metalworking for your bespoke lighting or you are looking for inspiration, the Lamp Factory can help. Please telephone us on 0208 683 0721 or email us